LMK Thermosafe is the world leader in design and manufacture of induction drum heaters and flexible heating jackets for totes, IBC's barrels and containers of many sizes, supplying more than 60 countries. Our product have been designated as the drum heater of choice in many multi-national companies, for individual drum heating applications as well as replacements for large steam heated ovens.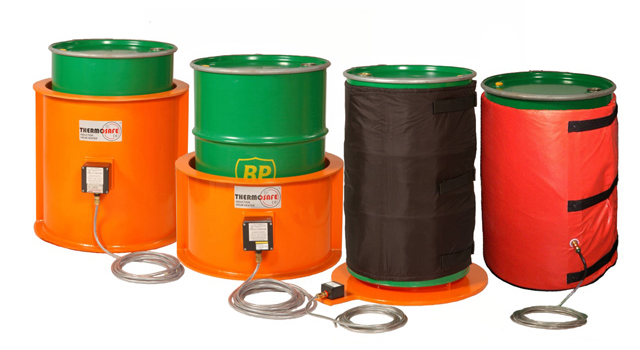 Worldwide manufacturing headquarters: Haverhill, Suffolk, United Kingdom.
USA Sales and technical support office: Lewisville, Texas, USA
China Representative office: Chengdu, Sichuan Province
شركة LMK الهندسية – الصفحة الرئيسة LMK工程公司

Inventor of the patented and proven Thermosafe Induction Drum Heater, Faratherm Induction Base Heater and Inteliheat flexible ATEX certified jackets.
Safer than conventional silicone band or clam-shell heaters - no heating elements.
Zones 1 and 2 ATEX and IECEx hazardous area certification - full system approval - complete heater and drum
Much more efficient than steam or radiant heat - case study cost reductions of 92%.
Quicker than conventional drum ovens - fast heating of liquids and melting of solids.
Maintenance free, virtually unlimited life, chemical & waterproof, with IP66 rating.
Operates from standard single phase electricity supply.
Self limiting temperature control.
Optional FARATHERM Induction Base Heater - melts difficult solids even faster
If you are considering purchasing a drum oven, then make sure thatTHERMOSAFE is included in your specification. Ask for our Product Note showing the savings in both operating and capital costs by emailing to sales@drumheating.com.
Manufacturer ofLMK Flexible Heating Jackets:
Replace energy greedy band heaters with insulated heater blankets
Suitable for plastic, metal or fiber containers including totes and IBC's
Range of materials to suit different temperature needs and budgets
Variety of sizes and power ratings to suit application
Adjustable or fixed temperature thermostats
Silicone insulated spiral wound elements for general industrial applications

INTELIHEAT available with ATEX/IECEx certification using our patented heater membrane
Whether you need anti-frost protection, a warming blanket to reduce viscosity and avoid drum contents solidifying, or higher power to raise container temperature to operating range, we are likely to have a product to suit. Contact us - Sales@drumheating.com
LMK is BS EN ISO 9001(2008) accredited by the Internationally recognised SIRA Certification Services Organisation, and our Hazardous Area Heaters are ATEX and IECEx approved by SIRA or Baseefa (2001) Ltd.
Products have been supplied to over 60 countries since 1985, & used by major companies including Unilever, GlaxoSmithKlein, Astra Zeneca, Huntsman, Bayer, Rhodia, Castrol, Dunlop, BP, Procter & Gamble, Roche, Rentokil, Exxon.
Project payback is frequently only months when replacing traditional heating systems due to energy cost reductions and increased productivity.
Contact Information
Want to contact us for further data, receive news, product development information or technical bulletins, or find the location of the Sales Partner nearest to your site?
E-Mail to sales@drumheating.com
E-Mail (USA only) to salesUSA@inteliheat.com
Telephone (UK): +44 (0)1440 707141
Telephone (USA only): +1 469 206 4040
FAX (UK): +44 (0)1440 713344
USA website www.inteliheat.com

Postal address UK head office:

LMK Thermosafe Ltd
9/10 Moonhall Business Park
Helions Bumpstead Rd, Haverhill
Suffolk, CB9 7AA
United Kingdom


USA Operations Postal Address:

Thermosafe Technologies LLC
dba Inteliheat North America
3838 Oak Lawn Avenue, Suite 1000
Dallas, TX 75219 U.S.A.

To see a map of our UK location, click Map
Arabic and Chinese translations - click below: